We sat down with Tim few days ago to talk about his approach to massage therapy, hobbies outside of work and his first days at Apex.
Tim, you are a senior therapist, one of our Leads at Apex, with a significant number of regular clients. What has been your biggest success in terms of restoring someone's health/well-being?

Tim: I must say my biggest success is actually in educating the clients and influencing them to make a change in their own lives as well. Massage will start the healing but often it is really up to them to introduce changes in their lives.
There was one time, when for ages, I was pestering this one particular client to start stretching and telling him how important it was every single time he came to see me. One week he just decided to go to a yoga class. Came back the next time just talking about how he felt absolutely fantastic after that and became fairly dedicated Yogi!
I know that outside of work you are have few hobbies – playing guitar and woodwork are few of them. What do you like to play, how did this passion start? I am dying to know more about woodwork – what did you build/create recently?

Tim: I started listening to music thanks to my dad who had a collection of various rock records and types. I listed to a lot of Queen, a lot of Deep Purple and some Sex Pistols, the bands my parents listed to, and I enjoyed that! I found them much more enjoyable than a lot of the music that was coming out then, in the early 2000s and late 90's. In my teenage years I decided that I really didn't like any modern music, and started looking back to the 80's and really started listing to a lot of heavy metal. So, I wanted to play guitar – that's what you do when you see these guys playing solos, you want to do it too! So, I started trying to play guitar. I was terrible! Very, Very bad! I had some lessons and I was still terrible…
I found a particular teacher who really helped me to change few things, showed me a lot more and I started improving a lot from there! I have been playing since I was 14.
And woodwork?

Tim: The woodwork comes from my desperation to be able to be creative. I am not the best with my hands, well… apart from massage, but I am not very good at creating with my hands. I was never very good at drawing, painting, my writing is terrible, but I always enjoyed trying to do that kind of stuff. It really comes from working on something, basically starting it from scratch, and having this finished product in front of you. It is really satisfying.
What have you built or made recently?

Tim: So far the main two finished things are a sign for my niece to go over her crib (it has her name carved in it) and a small side table that I made, it was a part of the course I took.
You have recently participated in the Ride to Conquer Cancer. This year's race unfortunately was stopped by the organisers because of poor quality of the air (BC fires). How did you prepare yourself for this event? Are you planning to participate in other events, now that you are in the best shape of your life?

Tim: I prepared myself by basically by riding my bike as much as I could. This year I couldn't really wait to start to ride my bike after the winter, there was still ice on the ground and about -1C. I started off being able to do about somewhere between 5 to 10km and I felt pretty exhausted. I kept doing it and every day I have noticed myself improving in the speed and distance. Because I come from the south of the river I have to come up the big hill so at the beginning it was tough, I had to get off my bike and push for probably the first month, after that I had to stop at least once, and towards the end of the year I could get up to the top of the hill without stopping, and it felt fine!
I am looking at the Ride to conquer Cancer again next year and other rides as well.
Do you remember your first day (or early days at Apex)? – I like to ask this question, people usually have funny stories to tell...

Tim: I have been working for a year when Apex opened at this location in Briar Hill. My friend Fraser got a letter delivered to his the door advertising the opening "meet and greet" and wanted someone to come along with him, so I offered to come. I thought it was a really nice clinic. I met Shelly MacGregor and was really impressed with everything here. But I had just started working somewhere else so didn't think about it for a while...
I used to come here to get massages from Fraser, so I knew the place, I knew few people here, I really liked it, and one day Fraser just said "Why don't you come here?" So, I did! I am glad to be here!
What motivated you to become a massage therapist?

Tim: I do not know! It definitely wasn't a dream. It wasn't something I grew up wanting to do.
I knew I wanted to come to Canada. I looked at a few different courses for a few different careers and thought …massage – that's seems interesting!
I grew up playing all the sports and I got few massages but not in the traditional sense as it was just the coach beating your legs up after a game. So I thought massage…it could be something I could do I guess… I like sports, I exercise… During the course I found that it gave me a fantastic opportunity to get absolutely obsessed about details which I really like doing and also allowed me to really think about what I was doing. I am not a fan of learning something and repeating what I have been thought. I really want to understand what I am doing and why I am doing it. A lot of my techniques are not necessary techniques I learnt at school, most of the time these are techniques I have developed, or techniques I learned at school and changed to suit me and my approach, based on what I found was effective.
You are one of the Leads at Apex, tell us about your transition from being a therapist to being a lead?

Tim: I think when I started at Apex we had about 15 Massage Therapists. We have just hired a 32nd.
One of the things that really appealed to me at Apex, when I came here as a client, and also when I started here as a Massage Therapist was that it always seemed to have a happy, positive feeling to the place. For me that is a major, major part of why I enjoy working here. With the growth the one thing I didn't want Apex to lose was that feeling, the culture. It is potentially very difficult when you are growing so fast.
For me as a lead, this was what I really wanted to focus on - keeping that culture. I think it was what originally made Apex a success and as we are growing it should continue to make Apex a success. I really hope everyone, therapists and clients who come to Apex feel that as well!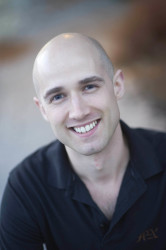 Tim Woolley, RMT studied at Mount Royal University, graduating from the two year diploma program in June 2012.
Through his experience in many different sports, including cycling, rugby and soccer, he understands people's aches and pains as he has experienced them himself and also understands how to help relieve them. He incorporates many different techniques into his massages including relaxation, therapeutic, deep tissue techniques and frictional therapies. He prides himself on being flexible and always meeting each client's needs, specializing in treating pain, chronic injuries, postural dysfunctions and sports injuries.